Over the next 20 weeks videos will take you inside 24 startups chosen from more than 500 applicants as they build their businesses with coaching and criticism from some of the world's most successful thought leaders and innovators. You'll witness dramatic ups and downs as entrepreneurs face a gauntlet of tough tasks, challenges and milestones. Suspense will build as we whittle down the pool of talented contenders in the coming weeks and months.
Entrepreneurs will be assessed on the basis of their firms' scalability, long-term viability, originality and distinctiveness of their products and services, utility, and ability to perform tasks we and our mentors set for them. The eventual WSJ Startup of the Year will be the firm that best meets these expectations.
The documentary will comprise a mix of contributed video from entrepreneurs and coaches, and WSJ-produced features. Viewers will have many opportunities to interact with the project by casting votes on entrepreneurs' videos; sharing videos and blogs via social media; and connecting with entrepreneurs and mentors during live chats. Votes won't determine who stays and who goes — those decisions will be made solely by WSJ editors working in conjunction with mentors.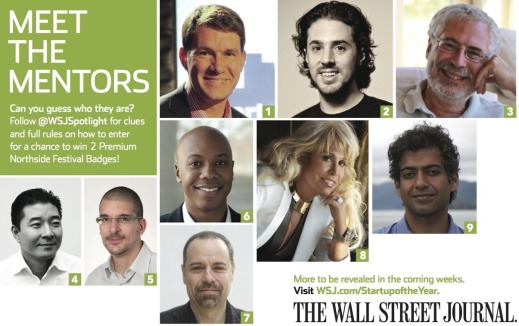 Watch the Episodes here: http://projects.wsj.com/soty/
Here are the Health & Safety Start-ups:
Asius Technologies
See what Stephen Ambrose, Asius Technologies' founder, has to say about the choice of Asius as the inflatable earbud and performance hearing aid company's name. Will they keep it?
Brain Sentry
If your business is helping protect football players from brain injuries, having the word "brain" in the brand name makes sense. But then what word or words do you choose? Find out what founder Greg Merril has to say as he addresses the first task.

Infina Connect
"A lot of people mispronounce it," admits Greg Moyer, Infina Connect's vice president of products. The healthcare startup chose Infina because of its association with the word "infinity." Find out how you're supposed to say it.

SwipeSense
The co-founders of SwipeSense, which makes a sensor-equipped device that incentivizes healthcare workers to keep their hands clean, get silly while telling the story of how they chose their brand name, logo and tagline. Have a look!

Rebellion Photonics
"You love it, or you hate it; but you don't forget it," say co-founders Allison Lami Sawyer and Robert Kester about their startup's name. What do you think?

Related articles